Pelagicus crab meat (Claw / 8 OZ.)
Our Claw consists of pieces of claw and leg meat. This crab meat (Portunus spp) is available year round.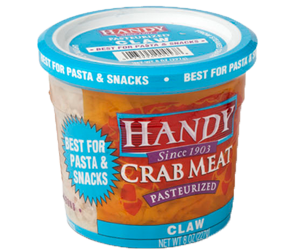 CONTACT US
UPC: 073994004538
Item Number:
4032050
Crab meat from claws and legs most economical grade of crab meat.
Best used in dips, soups, stuffing mixes and casseroles.
Ingredients
CRAB MEAT (PORTUNUS SPP). CONTAINS SODIUM ACID PYROPHOSPHATE TO PREVENT THE FORMATION OF STRUVITE CRYSTALS.