Chef's Master Blend Ultimate Stuff-It Mix (2 LB.)
Lump crab meat starter
Make your own signature crab cakes or stuffed entrées or appetizers with Handy's Chef's Master Blend Ultimate Stuff-It Mix! Our blend features generous lumps of sweet fresh crab meat and traditional seasonings for an authentic Maryland-style treat. Handy offers the quality; you choose the menu options.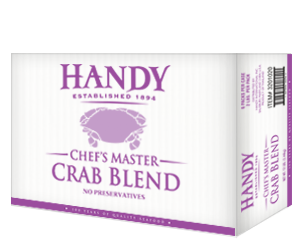 CONTACT US
UPC: 3203020
Item Number:
3203020
Made with fresh crab meat from steamed crabs - Meat has better texture and flavor
Fresh crab meat is black light inspected - Shell fragments are virtually non-existent
Serves as a base for flexibility for numerous menu options
Flavor is mild for opportunity to personalize with other ingredients
Cryogenically frozen for better texture, appearance and fresh flavor
Thaw under refrigeration. The crab mixture contained in this package is uncooked and should be cooked until heated through to an internal temperate of 160ºF.
Seafood platters, surf 'n' turf combos, as the stuffing for fish, lobster or other product, atop Caesar salads, as part of a combination appetizer plate with other delicacies, such as Handy's Crispy Shrimp Wraps or marinated shrimp.
Ingredients
CRAB MEAT, MAYONNAISE (SOY BEAN OIL, EGG AND EGG YOLK, WATER, SUGAR, VINEGAR, SALT, MUSTARD POWDER, ACETIC ACID, XANTHAN GUM), BREAD CRUMBS (UNBLEACHED WHEAT FLOUR, SALT, YEAST), EGGS, MUSTARD (DISTILLED VINEGAR, WATER, NO. 1 GRADE MUSTARD SEED, SALT, TURMERIC, PAPRIKA, SPICES, NATURAL FLAVOR, GARLIC POWDER), SEASONING (CELERY SALT [SALT, CELERY SEED], SPICES, NATURAL FLAVOR, GARLIC POWDER), PARSLEY.
CONTAINS: CRAB, SOY, EGGS AND WHEAT.