Coconut Breaded Shrimp (50 CT.)
Premium plump shrimp paired with a crunchy coconut coating
Handy's Breaded Coconut Shrimp are premium shrimp hand-dipped in a sweet coconut batter, then coated with natural shredded coconut and panko bread crumbs. The crispy coconut coating adds a delicious crunch to every bite. Coconut Breaded Shrimp are perfect served alone or paired with a sweet dipping sauce.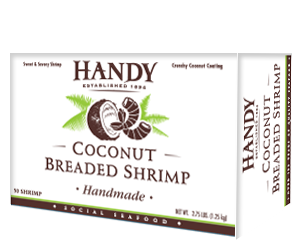 CONTACT US
UPC: 5102000
Item Number:
5102000
Premium chemical-free Vannamei shrimp.
26/30 count per pound raw shrimp.
Shrimp breaded for a 25g average finished product size.
Clean tail torpedo shrimp adds visual appeal and uniqueness.
Shrimp coated with coconut panko for great flavor, texture and crunch.
Cryogenically frozen, giving a better texture, appearance and fresh flavor.
Handmade for a "back of the house" appearance.
Cook from frozen - no prep time and no waste.
Serve with various sauces as an appetizer, entree or salad topper.
The Breaded Coconut Shrimp contained in this package are parfried and should be cooked until heated through to an internal temperature of 160°F.
BAKE - Preheat oven to 425°F. Spray or coat pan with oil. Place shrimp on pan. Place pan on rack in middle of oven.
• 12 - 14 minutes from frozen
• Cooking from thawed not recommended
DEEP FRY - Heat oil to 350°F.
• 3 - 4 minutes from frozen
• Cooking from thawed not recommended
Ingredients
INGREDIENTS: SHRIMP (WATER, SALT), BREADER (DESICCATED COCONUT, BREADCRUMB [UNBLEACHED WHEAT FLOUR, SALT, YEAST, SUGAR]), BATTER (WATER, UNBLEACHED WHEAT FLOUR, SUGAR, CORN STARCH, COCONUT POWDER, SALT, DISODIUM DIPHOSPHATE, SODIUM BICARBONATE), PRE-DUST (MODIFIED TAPIOCA STARCH, SUGAR, CRACKERMEAL [UNBLEACHED WHEAT FLOUR, SALT, DEXTROSE], UNBLEACHED WHEAT FLOUR, WHEAT GLUTEN, SALT, SODIUM ACID PYROPHOSPHATE, SODIUM BICARBONATE, YEAST EXTRACT, NATURAL COCONUT FLAVOURING, ONION). PARFRIED IN FULLY REFINED SOYBEAN OIL CONTAINS: CRUSTACEAN (SHRIMP), WHEAT, COCONUT AND SOY