Imported corn flour dusted soft shell crabs (Jumbo / 9 CT.)
Lightly corn dusted soft shell crabs that are entirely edible
Truly delectable! Handy's Corn Dusted Soft Shell Crabs are a Southern delight. A light coating of pure corn flour enhances the natural delicate flavors of the crabs and turns a luscious golden color when cooked. Enjoy the Best Taste from the Sea.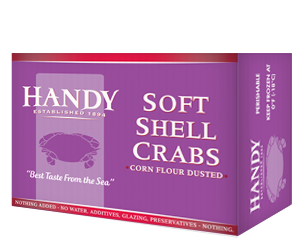 CONTACT US
UPC: 073994002374
Item Number:
2801020
Naturally molted for fat body — more white meat
DNA tested for your assurance — no species substitutions
Ready to cook — no preparation required
Freezer to Fryer — No waste
Portion control for consistent plate coverage and predictable food cost
Year round production and dependable supply
Cooking options for flexibility in the kitchen
The Corn Flour Dusted Soft Shell Crabs contained in this package are uncooked and should be cooked until heated through to an internal temperature of 160°F. Depending on the number of portions prepared and equipment variances, cooking times may require adjustment.
SAUTÉ
Cook in 2 tbsp. of oil on medium-high heat. Turn soft shell crabs over once during cooking.
2 – 4 minutes from thawed
6 – 8 minutes from frozen
DEEP FRY
Heat oil to 350°F and place belly side down. Turn soft shell crabs once during cooking.
1 – 2 minutes from thawed
2 - 3 minutes from frozen
Featured Recipes
6 Servings
Ingredients
Soft shell crabs, batter (water, unbleached wheat flour, corn starch, rice flour, raising agent [sodium acid pyrophosphate, sodium bicarbonate], guar gum, xanthan gum), breading (corn flour, salt, yeast extract, food acid, garlic powder, onion powder, spices), contains: crab and wheat