Pelagicus crab meat (Crab Cake Combo / 8 OZ.)
Makes Awesome Crab Cakes
The #1 reason why crab meat is purchased is to make crab cakes. With this in mind, Handy created the Crab Cake Combo, which makes the perfect crab cake! Not only does the combo contain close to the natural percent of meat that a crab produces; your customers will find that the combo improves the flavor and the consistency of their crab cakes. Give your customers a product that brings true value to the kitchen: the crab cake combo!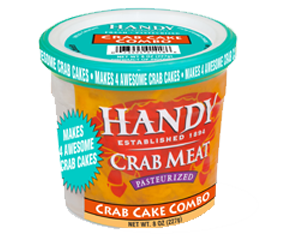 CONTACT US
UPC: 073994014186
Item Number:
4001418
Layered (not blended) crab meat improves recipe & consistency.
Keeps moisture in the cake.
Reduces crab grades needed for recipe.
Binds together better than other grades.
Saves on labor costs.
Reduces amount of space needed to store (1 can vs. several can grades).
Layered blend: 10% jumbo lump, 30% lump, 20% special, 40% claw.
Form into crab cakes, or use in pasta dishes, casseroles and imperials.
Ingredients
crab meat (portunus spp). Contains sodium acid pyrophosphate to prevent the formation of struvite crystals.