Pelagicus crab meat (Jumbo Lump / 8 OZ.)
Crab Meat, Jumbo Lump, Imported
Our Jumbo Lump includes lumps of sweet white crab meat in every can. This crab meat (Portunus spp) is available year round.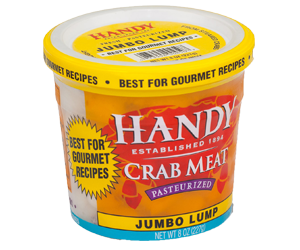 CONTACT US
UPC: 073994004507
Item Number:
4032020
From steamed live crabs for better flavor and texture
Black light inspected to remove shell, making it virtually shell-free
Year round production = dependable supply
Counts on jumbo lump grades giving a consistent number of pieces.
Best used in crab cakes, gourmet stuffing, salads, and crab cocktails.
Ingredients
crab meat (portunus spp). Contains sodium acid pyrophosphate to prevent the formation of struvite crystals.