Gluten free crab cakes (3 OZ. / 2 CT.)
Sweet meaty delicious crab cakes without the gluten
Handy brings taste and innovation to gluten free crab cakes. Our hand-formed sweet meaty cakes feature generous lumps of fresh crab meat and our signature blend of spices. You'd never guess they're gluten free! Certified by Gluten Free Certification Organization (GFCO).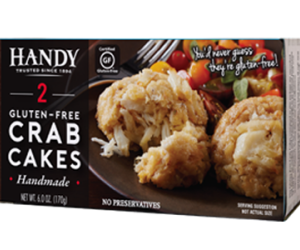 CONTACT US
UPC: 10073994005983
Item Number:
3054010
Gluten-free is a growing market segment.
Certified by GFCO guarantees that crab cakes are gluten free.
Made with fresh crab meat from steamed crabs having better texture and flavor.
Fresh crab meat is black light inspected so that shells are virtually non-existent.
Handmade.
Cryogenically frozen aids to better texture, appearance and flavor.
The crab cakes contained in this package are uncooked and should be cooked until heated through to an internal temperature of 160°F. Depending on the number of portions prepared and equipment variances, cooking times may require adjustment.
BROIL
Spray or coat pan with oil. Place pan on rack in middle of oven. Turn cakes over once during cooking.
8 minutes from thawed
10 minutes from frozen
BAKE
Preheat oven. Spray or coat pan with oil. Place pan on rack in middle of oven. Turn cakes over once during cooking. For convection ovens, reduce cooking time by approximately 1/3.
400°F for 14-16 minutes from thawed
400°F for 24-26 minutes from frozen
SAUTÉ
Cook in 2 tbsp. of oil on medium heat. Turn cakes over once during cooking.
4-6 minutes from thawed
Cooking from frozen not recommended
AIR FRY
Spray basket with oil. Place cakes in basket.
360°F for 15-17 minutes from thawed
360°F for 18-20 minutes from frozen
If thawing cakes, thaw under refrigeration or in microwave for 45 seconds on high.
NOTE: When preparing our crab cakes, we hand-inspect all crab meat to remove particles of shell. Despite our close inspection, small particles may occasionally be missed, and it may be possible to find some pieces of shell.
Ingredients
INGREDIENTS: CRAB MEAT, MAYONNAISE (SOYBEAN OIL, EGG AND EGG YOLK, WATER, SUGAR, VINEGAR, SALT, MUSTARD POWDER, ACETIC ACID, XANTHAN GUM), GLUTEN FREE BREAD CRUMBS (RICE FLOUR, WATER, EGG, TAPIOCA STARCH, POTATO STARCH, SUGAR, REFINED SOYBEAN OIL, SALT, YEAST, GUAR GUM), EGGS, LEMON JUICE, SCALLIONS, CORN STARCH, SUGAR, SALT, SEASONING (CELERY SALT [SALT, CELERY SEED], SPICES [INCLUDING RED PEPPER AND BLACK PEPPER], PAPRIKA), BLACK PEPPER. CONTAINS: Crustacean Shellfish (CRAB), SOY AND EGGS.