Tempura soft shell crabs (Prime 12 CT.)
Lightly battered tempura soft shell crabs that are entirely edible
Handy soft shell crabs are harvested at their softest, most delectable stage immediately after shedding their hard outer shells. These succulent, tender crabs are then fully cleaned and dipped in tempura batter. Fast, easy preparation makes serving soft shell crabs a delicious meal for any occasion. Remember the entire crab is edible!!!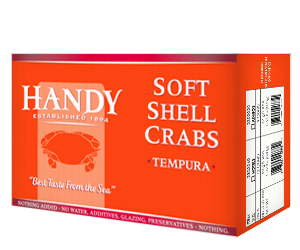 CONTACT US
Item Number:
2302030
Naturally molted so that there is more white meat.
DNA tested for your assurance no species substitutions.
Ready to cook, no preparation required.
Freezer to fryer, leaving no waste.
Portion control, consistent plate coverage and predictable food cost.
Year round production means dependable supply.
Cooking options gives flexibility in the kitchen.
BAKE
PREHEAT OVEN TO 350F. SPRAY OR COAT PAN WITH OIL. PLACE PAN ON RACK IN MIDDLE OF OVEN. TURN CRABS OVER ONCE DURING COOKING. COOKING FROM THAWED NOT RECOMMENDED.
14-15 MINUTES FROM FROZEN.
SAUTE
COOK IN 2TBSP OF OIL ON MEDIUM LOW HEAT. TURN CRABS OVER ONCE DURING COOKING.
7-8 MINUTES FROM THAWED
8-10 MINUTES FROM FROZEN.
DEEP-FRY
HEAT OIL TO 350F AND PLACE BELLY SIDE DOWN. TURN CRABS OVER ONCE DURING COOKING.
3-4 MINUTES FROM THAWED
7-8 MINUTES FROM FROZEN
Ingredients
soft shell crabs, batter (water, unbleached wheat flour, wheat starch, rice flour, maize flour, raising agent [sodium acid pyrophosphate, sodium bicarbonate], salt food gum) pre-dust (modified tapioca starch, tapioca starch, salt) par-fried in soybean oil. Contains:crustacean shellfish (crab), wheat and soy