Imported soft shell crab (Super Colossal / 4 x 6 CT.)
A soft shell crab for all seasons
From the crystal clear waters of Southeast Asia, Handy brings delectable soft shell crabs, a worldwide favorite for their sweet, flavorful white meat. Our Mangrove Crabs (Scylla spp) are packed on site, where Handy introduced modern food technology to the Asian crab industry.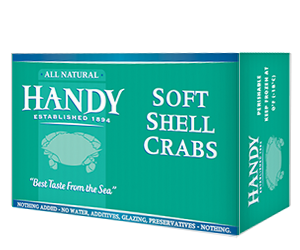 CONTACT US
UPC: 073994001995
Item Number:
2001130
Naturally molted; fat body- more white meat.
DNA tested; your assurance - no species substitution.
Fully dressed; ready for recipe preparation.
Individually weighed; consistent sizing and predictable food cost.
Year round production; dependable supply.
Ingredients
Soft Shell Crabs (scylla spp)