Gourmet crab cake minis (.75 OZ. / 100 CT.)
Delicious crab cakes ideal for appetizers and party platters
Small size, big flavor! Handy's Gourmet Crab Cake Minis offer ample pieces of sweet fresh crab meat and our signature spice blend for a traditional Maryland-style treat. All Handy crab cakes are gently hand-formed for a true homemade experience. Ideal for appetizers or party platters.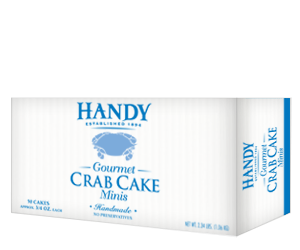 CONTACT US
UPC: 073994005023
Item Number:
3001010
Made with fresh crab meat, meat has better texture and flavor.
Fresh crab meat is black light inspected, shell fragments are virtually non existent.
Handmade for the back of the house appearance.
Portion control means a consistent plate coverage and predictable food costs.
Cryogenically frozen has better texture appearance and fresher flavor.
Coking options are flexibile depending on the kitchen.
BROIL
Spray or coat pan with oil. Place 6" from coils. Turn cakes once during cooking.
4-5 minutes if thawed
6-7 minutes if frozen
BAKE
Preheat oven. Spray or coat pan with oil. Place pan on rack in middle of oven. Turn cakes once during cooking. For convection ovens, reduce cooking time by approximately 1/3.
450°F for 5-6 minutes if thawed
350°F for 10 minutes if frozen
SAUTE
Cook in 1/8" to 1/4" oil in pan. Heat to medium temperature. Turn cakes once during cooking.
3 minutes if thawed
Not recommended from frozen
DEEP FRY
Heat oil to 325°F to 350°F.
2 minutes if thawed
3-4 minutes if frozen
Ingredients
crab meat, mayonnaise (soybean oil, vinegar, eggs, water, sugar, salt, mustard), bread crumbs (wheat flour, salt, sugar, yeast, vegetable shortening (palm (non hydrogenated)), eggs, onion, mustard (distilled vinegar, water, no. 1 grade mustard seed, salt, turmeric, paprika, spices, natural flavor, garlic powder), worcestershire sauce (distilled vinegar, molasses, corn syrup, water, salt, caramel color, garlic powder, sugar, spices, anchovy, natural flavor (contains soy) and tamarind), seasoning (celery salt [salt, celery seed], spices [including mustard, red pepper, black pepper, bay (laurel) leaves, cloves, allspice (pimento), ginger, mace, cardamom, cinnamon], paprika), spices. Contains: crab, soy, eggs, wheat, and anchovies.