Pelagicus crab meat (Backfin / 1 LB.)
Pieces of Broken Lump and Body Meat
Our Backfin consists of white body meat topped with lump. This crab meat (Portunus spp) is available year round.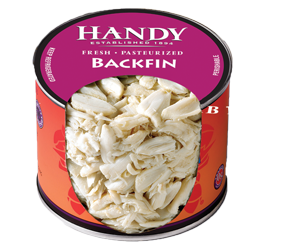 CONTACT US
UPC: 073994004156
Item Number:
4002080
From steamed live crabs for better flavor and texture
Black light inspected to remove shell, making it virtually shell-free
Year round production = dependable supply
Best used in dips, soups, salads, stuffing, and crab cakes.
Ingredients
crab meat (portunus spp). Contains sodium acid pyrophosphate to prevent the formation of struvite crystals.