Seafood cakes (3 OZ. / 12 CT.)
Seafood and fresh vegetables create a tasty treat
Crab House Seafood Cakes offer seafood, fresh vegetables and a special blend of seasonings for a fun, colorful treat. All Crab House Seafood Cakes are gently hand-formed for a true homemade experience. Looks great on a buffet.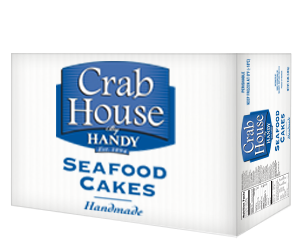 CONTACT US
UPC: 10073994001824
Item Number:
3801000
Value priced - Increased profit
Handmade for a back-of-the-house appearance
Portion control, giving consistent plate coverage and predictable food cost
Cryogenically frozen for better texture, appearance and fresh flavor
Numerous cooking options with flexibility in the kitchen
These seafood cakes are uncooked and should be cooked until heated through to an internal temperature of 160°F. Depending on the number of portions prepared and equipment variances, cooking times may require adjustment.
BROIL
Spray or coat pan with oil. Place pan on rack in middle of oven. Turn cakes over once during cooking.
4 minutes from thawed
Cooking from frozen not recommended
BAKE
Place baking pan on on rack in center of oven; preheat oven. Spray or coat PREHEATED baking pan with oil before placing cakes on the pan. Turn cakes over once during cooking. For convection ovens, reduce cooking time by approximately 1/3.
350°F for 13-15 minutes from thawed
375°F for 18-20 minutes from frozen
SAUTÉ
Cook in 2 tbsp. of oil on medium-low heat. Turn cakes over once during cooking.
4 minutes from thawed
Cooking from frozen not recommended
DEEP FRY
Heat oil to 350°F.
2 to 3 minutes from thawed
Cooking from frozen not recommended
NOTE: If thawing cakes, thaw under refrigeration or in microwave for 45 seconds on high.
Ingredients
water, fish protein ([pollock, cod and/or whiting], water, wheat starch, egg whites, sugar, sorbitol, modified food starch, salt, soybean oil, snow crab, natural and artificial flavors, sodium tripolyphosphate, tetrasodium pyrophosphate, mirin wine, paprika, color added), bread crumbs (unbleached wheat flour, salt, yeast), textured wheat protein (wheat gluten, wheat starch, phosphate, antioxidant), mayonnaise (soybean oil, eggs, vinegar, salt, mustard, sugar, water), eggs, yellow onions, green peppers, red peppers, mustard (distilled vinegar, water, no. 1 grade mustard seed, salt, turmeric, paprika, spices, natural flavor, garlic powder), seasoning (celery salt [salt, celery seed], spices [including red pepper and black pepper], paprika), baking powder (sodium acid pyrophosphate, mono calcium phosphate, sodium bicarbonate, tapioca starch), worcestershire sauce (distilled vinegar, molasses, corn syrup, water, salt, caramel color, sugar, spices, anchovies, tamarind, natural flavor [contains soy]), artificial flavor, sugar, garlic powder, onion powder, parsley, white pepper, spices. Contains: fish, wheat, eggs, soy and crab.