Santa fe crab cakes (3 OZ. / 12 CT.)
Zippy southwestern flavor to awaken your taste buds
Jazz up your options! Handy's Santa Fe Crab Cakes feature plentiful lumps of fresh crab meat and zippy southwestern flavors with just enough spice to awaken your taste buds. All Handy crab cakes are gently hand-formed for a true homemade experience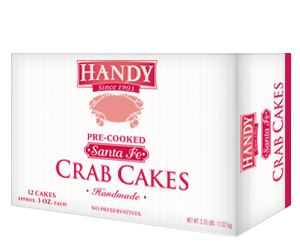 CONTACT US
UPC: 073994005498
Item Number:
3103080
Made with fresh crab meat from steamed crabs - Meat has better texture and flavor.

Fresh crab meat is black light inspected - Shell fragments are virtually non-existent.

Handmade for that back-of-the-house appearance.

Portion control for consistent plate coverage and predictable food cost.

Cryogenically frozen for better texture, appearance and fresh flavor.

Ready to cook - No preparation.
The crab cakes contained in this package are precooked and should be heated through to an internal temperature of 160°F. Depending on the number of portions prepared and oven temperature variances, heating times may need adjustment.
BAKE
Preheat oven to 375°F. Place cakes on ungreased baking pan and place on rack in middle of oven. Turn cakes once midway during heating. For convection ovens, reduce cooking time by approximately 1/3.
20 minutes if thawed
25 minutes if frozen
NOTE: If thawing cakes, thaw under refrigeration or in microwave for 45 seconds on high.
Ingredients
INGREDIENTS: Crab Meat, Mayonnaise (Soybean Oil, Egg and Egg Yolk, Water, Sugar, Vinegar, Salt, Mustard Powder, Acetic Acid, Xanthan Gum), Bread Crumbs (Unbleached Wheat Flour, Salt, Yeast), Eggs, Scallions, Seasoning (Celery Salt [Salt, Celery Seed], Spices [Including Red Pepper and Black Pepper], Paprika), Worcestershire Sauce (Distilled Vinegar, Molasses, Corn Syrup, Water, Salt, Caramel Color, Sugar, Spices, Anchovies, Natural Flavor [Contains Soy], Tamarind), Mustard (Distilled Vinegar, Water, No. 1 Grade Mustard Seed, Salt, Turmeric, Paprika, Spice, Natural Flavors, Garlic Powder), Tabasco Sauce (Distilled Vinegar, Red Pepper, Salt), SPICES. PRECOOKED IN SOYBEAN OIL. Contain: CRUSTACEAN SHELLFISH (CRAB), SOY, EGG, WHEAT and FISH (ANCHOVIES).