Carnival breaded crab cakes (3 OZ. / 12 CT.)
Crunchy Panko Breaded Crab Cakes
Handy's hand-formed Carnival Crab Cakes offer lumps of sweet fresh crab meat, ribboned with a smooth béchamel sauce and our signature spice blend. Our crab cakes are lightly coated with panko bread crumbs so that they're crunchy on the outside and tender on the inside. All Handy crab cakes are gently hand-formed for a true homemade experience. Perfect with a dipping sauce for an appetizer, on a soft bun for lunch, or atop a chopped salad for dinner.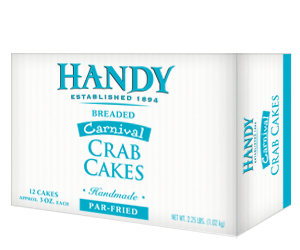 CONTACT US
UPC: 073994005481
Item Number:
3303000
Made with fresh crab meat from steamed crabs.
Fresh crab meat is black light inspected.
Serves as a base; flexibility for numerous menu options.
Flavor is mild - opportunity to personalize with other ingredients.
Cryogenically frozen for better texture, appearance and fresh flavor.
The crab cakes contained in this package are precooked and should be heated through to an internal temperature of 160°F. Depending on the number of portions prepared and oven temperature variances, heating times may need adjustment.
BAKE
Preheat oven. Spray or coat pan with oil. Place pan on rack in middle of oven. Turn cakes once during cooking. For convection ovens, reduce cooking time by approximately 1/3.
375°F for 13-15 minutes if thawed
350°F for 26-28 minutes if frozen
NOTE: If thawing cakes, thaw under refrigeration or in microwave for 45 seconds on high.
Ingredients
crab meat, mayonnaise (soybean oil, egg and egg yolk, water, sugar, vinegar, salt, mustard powder, acetic acid, xanthan gum), sauce (milk, unsalted butter [cream, lactic acid], unbleached wheat flour, green peppers, scallions, worcestershire sauce (distilled vinegar, molasses, corn syrup, water, salt, caramel color, sugar, spices, anchovies, tamarind, natural flavor [contains soy]), hot sauce [distilled vinegar, red pepper, salt]), bread crumbs (unbleached wheat flour, salt, yeast), eggs, brown mustard (distilled vinegar, no. 1 grade mustard seed, water, salt, spices, turmeric, natural flavor), seasoning (celery salt [salt, celery seed], spices [including red pepper and black pepper], paprika), scallions, parsley. Contains: crab, soy, eggs, milk, anchovies and wheat.