Tempura soft shell crabs (12 x 2 CT.)
Handy soft crabs are harvested at their softest, most delectable stage immediately after shedding their hard outer shells. These succulent, tender crabs are then fully cleaned, dipped in tempura batter then par-fried. Fast, easy preparation makes serving soft crabs a delicious meal for any occasion. Remember, the entire crab is edible!!!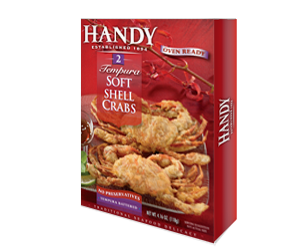 CONTACT US
UPC: 073994007713
Item Number:
2110130
Naturally molted so that there is more white meat.
DNA tested for your assurance - no species substitutions.
Ready to cook - no preparation required.
Year round production means dependable supply.
The Tempura Soft Shell Crabs contained in this package are precooked and should be cooked until heated through to an internal temperature of 160°F. Depending on the number of portions prepared and equipment variances, cooking times may require adjustment.
BAKE
Preheat oven to 375˚F. Spray or coat pan with oil and place on rack in middle of oven. Turn crabs over once during cooking.
• Cooking from thawed not recommended
• 15 minutes from frozen
SAUTÉ
Cook in 2 tbsp. of oil on medium heat until golden brown. Turn crabs over once during cooking.
• 3 minutes from thawed
• 6 minutes cooking from frozen
NOTE: Cooking times may vary slightly depending on equipment used.
Ingredients
Soft Shell Crabs, batter (water, unbleached wheat flour, wheat starch, rice flour, maize flour, raising agent [sodium acid pyrophosphate, sodium bicarbonate], salt, food gum), pre-dust (modified tapioca starch, tapioca starch, salt). Par-fried in soybean oil. Contains: crab, wheat and soy.