Domestic crab cakes (4 OZ. x 12 CT.)
Crab cakes made with domestic Blue Crabs
It doesn't get any better than this! Handy's Crab Cakes feature generous amounts of sweet crab meat from blue crabs, spices and seasonings for a traditional Maryland-style treat. All Handy crab cakes are gently hand-formed for a true homemade experience.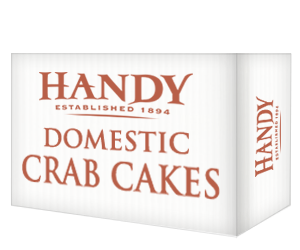 CONTACT US
UPC: 073994110505
Item Number:
1311050
Made with fresh crab meat from steamed crabs - Meat has better texture and flavor.

Fresh crab meat is black light inspected - Shell fragments are virtually non-existent.

Handmade for that back-of-the-house appearance.

Portion control for consistent plate coverage and predictable food cost.

Cryogenically frozen for better texture, appearance and fresh flavor.

Ready to cook - No preparation.
The Crab Cakes contained in this package are uncooked and should be cooked until heated through to an internal temperature of 160°F. Depending on the number of portions prepared and equipment variances, cooking times may require adjustment.
BROIL
Spray or coat pan with oil. Place on rack in middle of oven. Turn cakes over once during cooking.
11 minutes from thawed
15 minutes from frozen.
BAKE
Preheat oven. Spray or coat pan with oil. Place pan on rack in middle of oven. Turn cakes over once during cooking. For convection ovens, reduce cooking time by approximately 1/3.
400°F for 20 minutes from thawed
350°F for 25-30 minutes from frozen
SAUTÉ
Cook in 2 tbsp. of oil on medium heat. Turn cakes over once during cooking.
10 minutes from thawed
Cooking from frozen not recommended
If thawing cakes, thaw under refrigeration or in microwave for 45 seconds on high.
NOTE: When preparing our crab cakes, we hand-inspect all crab meat to remove particles of shell. Despite our close inspection, small particles may occasionally be missed, and it may be possible to find some pieces of shell.
Ingredients
crab meat (callinectes sapidus), mayonnaise (expeller pressed canola oil, pasteurized whole eggs, filtered water, honey, distilled white vinegar, sea salt, mustard [distilled vinegar, water, mustard seed, salt], lemon juice concentrate), bread crumbs (unbleached wheat flour, cane sugar, yeast, salt), saut ed onions (yellow onions, butter), pasteurized eggs (whole eggs, citric acid, and 0. 17% water added as a carrier for citric acid), celery, lemon juice, corn starch, scallions, sugar, sea salt, dijon mustard (organic grain vinegar, water, mustard seed, sea salt, spices, turmeric), seasoning (celery salt [salt, celery seed], spices, and paprika), black pepper, worcestershire sauce (water, organic soybeans, salt). Contains: crustacean (crab), eggs, wheat and soy.