Salmon power bites (0.5 OZ. / 12 CT.)
Super healthy ingredients in a whole new way!
Handy Salmon Power Bites are loaded with protein and nutrients. They contain positive healthy ingredients that taste great, without any artificial flavors or colors, and are totally preservative free.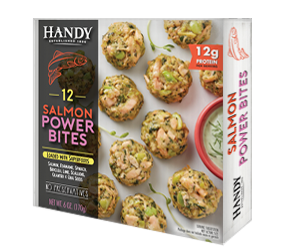 CONTACT US
UPC: 073994030032
Item Number:
1400512
Heart healthy seafood - supports the USDA recommend dietary guidelines for eating seafood twice a week.
100% convenient power foods - grab, heat and eat while sticking to a healthy diet!
Power meal trend sensation - high protein meal loaded with nutrients to energize your body and fuel your brain.
Handmade with quality ingredients - fresh, whole ingredients packed with amazing flavor served with balanced nutrition.
Salmon - most popular fin-fish in the U.S.A.
SAUTÉ
Cook in 2 tbsp. of oil on medium heat. Turn bites over once during cooking.
3-4 for minutes from thawed
Cooking from frozen not recommended
BAKE
Preheat oven. Spray or coat pan with oil. Place pan on rack in middle of oven. Turn bites over once during cooking. For convection ovens, reduce cooking time by approximately 1/3.
400°F for 8-10 minutes from thawed
400°F for 12-14 minutes from frozen
If thawing bites, thaw under refrigeration or in microwave for 45 seconds on high.
Ingredients
INGREDIENTS: SALMON (Salmo salar), EDAMAME (SOYBEANS, WATER), EGGS, BREAD CRUMBS (UNBLEACHED WHEAT FLOUR, SALT, YEAST), SPINACH, SOY SAUCE (SOYBEANS, WHEAT, SALT, ETHYL ALCOHOL), BROCCOLI, SCALLIONS, HONEY, LIME JUICE, CILANTRO, CHIA SEEDS, GINGER, GARLIC PUREE (GARLIC, SOYBEAN OIL), FISH SAUCE (ANCHOVY EXTRACT, SALT), SESAME OIL (SESAME OIL, SOYBEAN OIL), SALT.
CONTAINS: FISH (SALMON, ANCHOVIES), SOY, WHEAT AND EGGS.